Get A Free Alles Restore Skincare Pack!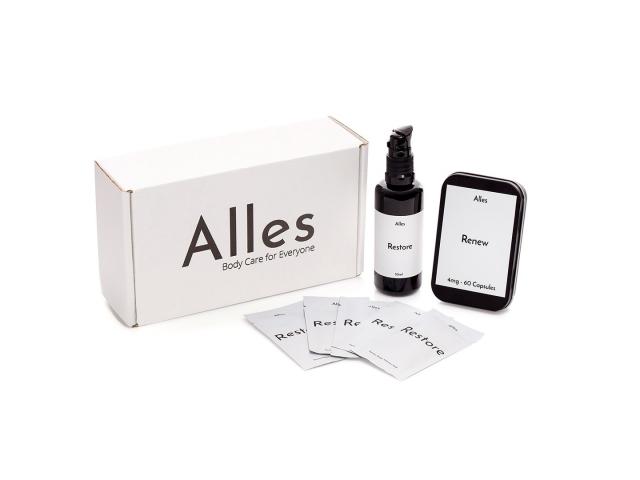 What is Alles Body? The German word meaning "EVERYTHING", because that's exactly what we do for your body, everything.
Restore your skin, renew your body and focus on yourself. We stay as sustainable as possible and provide powerful and proven products to improve overall skin health.
Key Ingredients:
-Astaxanthin
-Aloe Vera ( al-oh, ver-ah ) the most useful succulent. Added into our Restore cream for its' anti-inflammatory properties and to help calm acne and redness. A gentle yet potent hydration agent for your skin.
-Turmeric ( tər-mə-rik ) is from the ginger family and added to help lessen wrinkles, acne, blackheads and keep the inflammation down. Its vibrant color lends to the rich, earthy color of the cream.
-Noni Plant (Amino Acids)
-Coconut is a wonderful moisturizer and has a natural sun protection factor. It will keep your skin silky smooth and also protect against some harmful bacteria.
-Cupuacu Butter. Smooth. Firm. Skin. This plant based butter helps to regrow skin that has been damaged or neglected. It absorbs quickly without feeling greasy or leaving a residue.
It makes your skin glow! Super youthful and smoother skin! Highly recommended to anyone looking for a great moisturizer!
Do you want a lot more freebies? Stay updated with this newsletter and stay in touch. You will see tons more coming into your email every single day, so watch out for more freebies.
Just click on the link below to get this freebie! Fill out the form with your shipping information on the next screen. Submit the form and wait for your freebie!
Just follow this link to get the freebie:
Sample availability and delivery is subject to each individual company's terms, conditions and availability at their discretion.
Today's free samples:
Online Sweepstakes: