Get A Free Pledge Cleaner (Pack of 2)!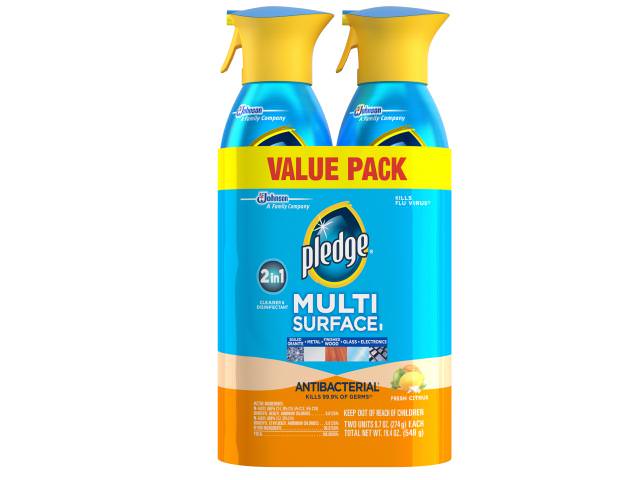 Pledge Multi Surface Everyday Cleaner does the work of a variety of household cleaning products. This all-purpose cleaner contains a worry-free formula that cleans up smudges and messes while safely leaving the finish alone. Pledge Multi Surface Everyday Cleaner also removes dust and up to 90% of the allergens found in dust.
Can be used on almost any surface, including granite, metal, wood, glass, and electronics
Removes dust and up to 90% of the allergens found in dust
No smeary residue
Surfaces: Finished Wood, Wood Laminate, Glass, Mirrors, Stainless Steel, Plastics, Sealed Granite, Sealed Marble, Chrome, Electronics.
Claim your free Pledge product sample today!
1. Click on the link below!
2. Create your account with an email and password.
3. Click on the "Get Offer" button and it'll take you to Walmart.
4. Add 1 "Pledge Multi Surface Antibacterial Everyday Cleaner 9.7 Ounces, (Pack of 2)" priced for $7.47 to your cart and shop as you would normally then checkout. If the price changes or anything happens to the stock, the deal is officially over.
5. This is a Free In Store Pick Up offer.
6. Once you checkout, in about 14 days $7.47 will post in your TopCashback account.
This offer is available to new TopCashback members only. However, as TopCashback doesn't limit accounts to one per household, if you're an existing member now's the perfect time to tell your husband or wife, mom or dad, roommate, neighbor or anyone else about TopCashback and perhaps they'll share their freebie with you.
Just follow this link to get the freebie:
Sample availability and delivery is subject to each individual company's terms, conditions and availability at their discretion.
Today's free samples:
Online Sweepstakes: