Get A Free Pooparoos Surpriseroos!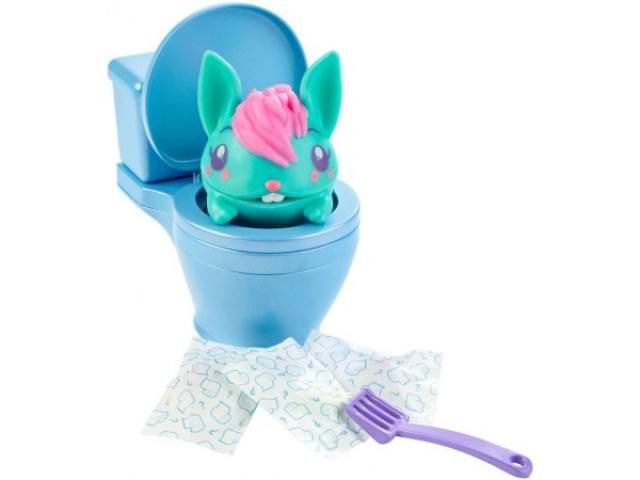 These super cute toilets are full of surprises that make potty play a laughing blast! for your first exciting treat, open the blue toilet seat to see which squishy, cute Pooparoos Surpriseroos figure hides inside. It could be a purple or blue Bunny, a Panda, a pink Bear, a white Unicorn, a blue or yellow Monster, or a Corgi dog. for surprise number two (hee, hee, hee), lift the tank and find three magical paper packs. Put water in the bowl, drop a paper in, stir with the included scoop and see the paper dissolve before your eyes to reveal your pet's food! Scoop it out, feed your Pooparoos figure, sit him on the potty and squeeze, squeeze, squeeze — he'll poop his food in the toilet! Trendy food surprises include cupcakes, hotdogs, macaroons, donuts and colorful piles of poo! the fun never ends because you can eat, squeeze, and go again and again! Pooparoos Surpriseroos are totally unique, silly play sets that make excellent gifts, too. Store your whimsically cute Pooparoos figure in the toilet and its food in the tank until it's time to poop and play again. Each toilet set sold separately, subject to availability.
Click on the link below!
Create your account with an email and password
Click on the "Get Offer" button and it'll take you to Walmart.
Add at least 1 "Pooparoos Surpriseroos Toilet Surprise" priced for $9.88 to your cart then shop as normal and checkout. If the price changes or anything happens to the stock, the deal is officially over.
This is a Free In Store Pick Up offer.
Once you checkout, in about 14 days $9.88 will post in your TopCashback account.

Just follow this link to get the freebie:
Sample availability and delivery is subject to each individual company's terms, conditions and availability at their discretion.