Get A Free Sample of WowButter!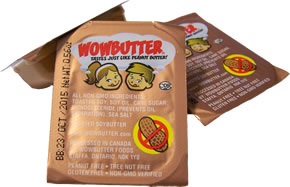 A taste and texture just like Peanut Butter, but with better nutrition! Omega-3 *** Complete Protein *** NON-GMO *** Safe-for-School *** Kosher/Halal Vegan ***
Request a Single Sample of WOWBUTTER! Try WOWBUTTER for yourself and you'll say "WOW! Tastes just like Peanut Butter!" You will receive one 0.50oz (14g) single serve WOWBUTTER sample as shown at right in a padded envelope with a small information insert. Call the automated line at 1-866-296-6081 to obtain a promotional code to get a sample. There are a limited number of free samples available each day. If the daily limit has been reached, or you do not have a promo code, you will directed to PayPal to help pay for shipping.
Just follow this link to get the freebie: