Get Free Ricola Citrus Gummies!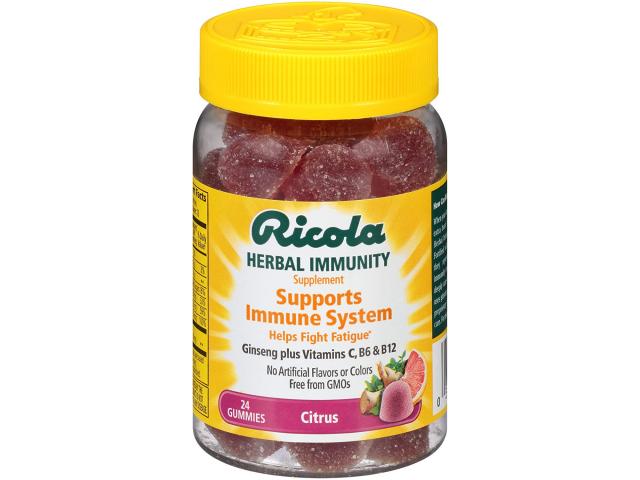 HERBAL IMMUNITY CITRUS GUMMIES: Ricola's Herbal Immunity Gummies are formulated with ginseng, vitamin C, vitamin B6 and B12, and Swiss herbs, to help support the immune system. The delicious herbal taste is complimented by a tasty, tart citrus flavor.
THE RICOLA HERBAL IMMUNITY DIFFERENCE: Ricola's Herbal Immunity Gummies do not contain artificial flavors or colors, only natural flavorings & colors, are free from genetically modified ingredients, & contain Ricola's proprietary blend of 10 Swiss herbs.
SWISS HERBAL BLEND: Ricola's unique formula uses a secret blend of ten herbs grown in the Swiss mountains with natural farming guidelines. This blend of herbs is included in our immunity drops & gummies, giving them a pleasantly herbal taste you'll love.
KNOWN FOR HERBAL COUGH DROPS: Ricola drops have been trusted for cough & sore throat relief for generations, loved for their taste of Swiss Alpine herbs, like peppermint, thyme & lemon balm. The Ricola Herbal blend is used in Immunity Gummies & Drops, too.
RICOLA QUALITY HERBAL IMMUNITY GUMMIES: Compare the taste and ingredients of Ricola Herbal Immunity Gummies to those from brands such as Zarbees, Sundown Naturals, Nature's Bounty, Counter Attack, Sovereign Silver, Host Defense, Moducare, Yogi, & Olly.
Our team can give you more amazing freebies, so if you liked today's offers, please check out the email tomorrow for more.
Just click on the link below to get this freebie! Fill out the form with your shipping information on the next screen. Submit the form and wait for your freebie!
Just follow this link to get the freebie: