Get Free Star Wars + Frozen Ziploc Sandwich Bags!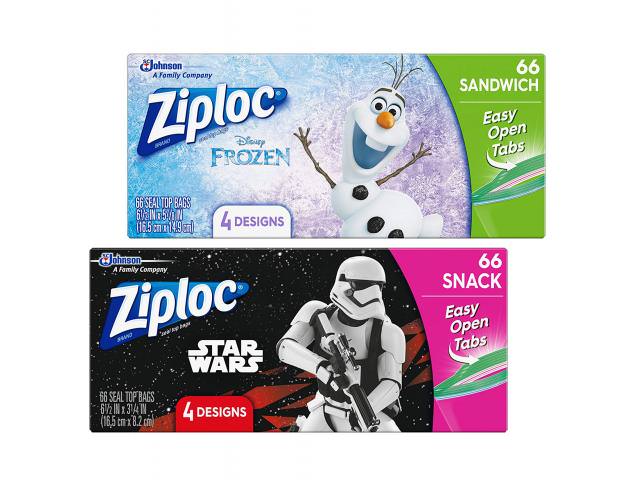 Ziploc Brand Sandwich bags are now featuring Disney Frozen / Star Wars Designs. Whether you've got a big double-decker sandwich or a skinny PB&J, the Ziploc Brand Sandwich Bags featuring Disney Frozen Designs are perfect for packing the sandwiches kids love and keeping food secure and out of the evil hands of Prince Hans. Use these handy bags to bring recipe ideas to life, pack lunch for your Anna and Elsa or just to keep snacks fresher for longer when they want to build a snowman. You can also use them to pack birthday party goodie bags, keep school bags organized, and for smarter Olaf carrot nose storage. BPA free.
Features Disney Frozen / Star Wars Designs with 4 fun designs
Features our Easy Open Tabs
Secure seal locks in freshness
Use these handy sandwich bags to pack lunch for kids or to keep snacks fresh, accessible and fun
Do you want a lot more freebies? Stay updated with this newsletter and stay in touch. You will see tons more coming into your email every single day, so watch out for more freebies.

Ideal for packing sandwiches, pizza slices, subs, cookies, fruit, carrot sticks, chips and more.



Now featuring Star Wars designs. Keep snacks secure and out of the hands of Stormtroopers with Ziploc Brand Snack Bags featuring Star Wars designs!


Digitry has a lot of samples you can apply to get for free within your account!
Click on the link, then sign up for a new account or login to your existing account at Digitry! When you are on the offer page, click the "click here for a chance to recieve the free product kit" link!
Just follow this link to get the freebie: